Lookup Warrants and Arrests in Woonsocket, Rhode Island. Results Include: Arrest Records, Police Report, Warrants, Mugshot, Type of Crime, Warrant Number, Bond Amount, Race, DOB, Address
Woonsocket Rhode Island Police Station Address: 242 Clinton St, Woonsocket, RI 02895, United States
16 hours ago
@Woods826 Over 100 vehicles tagged and towed during last storm. Hopefully there won't be a need to tow so many. We're asking for public's assistance and find off street parking. We will tow vehicles parked on streets.
19 hours ago
Woonsocket Police Department is accepting applications for Police Officer now through March 9, 2018. https://t.co/P3vZ7bOBug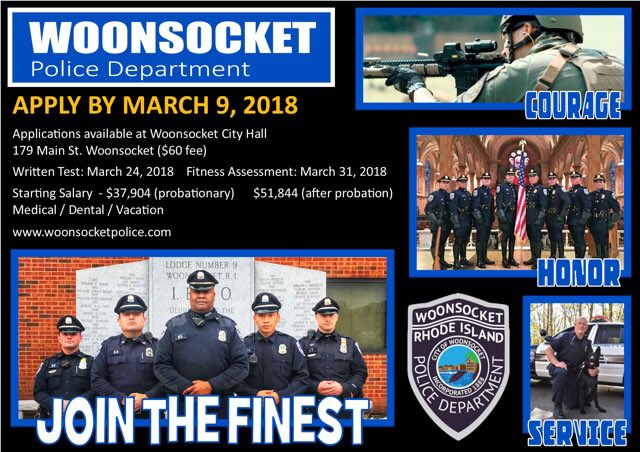 Welcome to the Woonsocket Police Department Facebook page. We use this site to enhance our communication with the community. Our programs and initiatives are listed here as well as information on recruitment and department contacts.
Our primary responsibility is to provide professional and quality service to the community efficiently and effectively. Our police force incorporates technology and training to enhance our overall effectiveness while continually striving to meet the challenges of the future. Through progressive community involvement, the Woonsocket Police Department strives to make Woonsocket a safer place to live, work and visit. We fulfill this through the philosophy of community policing, utilizing problem solving strategies in partnership with the citizens we serve.
The Woonsocket Police Department ensures that deaf and hard-of-hearing people have full and equal enjoyment of its services, privileges, facilities, advantages and accommodations, and it will provide Auxiliary Aids and Services at no cost to ensure Effective Communication with these individuals. Ask us for help.
Woonsocket Police Department shared Woonsocket Parks & Recreation's post.2 weeks ago
Woonsocket Parks & Recreation
Parking BAN starts TONIGHT at 6pm!!! Until further notice. Please have your cars OFF the roads so that they don't get ticketed and/or towed! If you need a place to park the city has designated parking lots where you can park WITH a parking permit available at City Hall. Call 767-9209 for more info on this.
Stay safe! We will be working round the clock for the city we ALL Love! Please share!